It's hard to believe that real life can compare to this whimsical animation, yet the ocean floors of Curacao seem to be exactly what the song is talking about. From rays to sardines, from clams to each little slug, this island proves that "darlin, it's better down where it's wetter" and if you don't want to take the tiny caribbean crab's word for it, we'll show you the top spots for snorkeling in Curacao that'll leave you in awe and wanting to live in these underwater paradise spots.
Playa Jeremi
A hidden gem with a picturesque white beach, this snorkeling spot is a favorite amongst tourists and locals for the easy water entry. You can walk directly along the sandy stretch and observe all sorts of underwater life from sea turtles to triggerfish.
Klein Curacao
A small deserted island that features healthy corals and a variety of underwater life in crisp blue waters. A trip to Klein requires a two hour boat trip in open water, and if you're lucky, you might even spot some dolphins swimming along the way.
Playa Kalki
An underwater seascape awaits snorkelers who plan to explore the depths of Playa Kalki, often referred to as "Alice in Wonderland". This spot is home to hundreds of fish and huge coral formations that most people liken to something straight out of Lewis Carrol's imagination.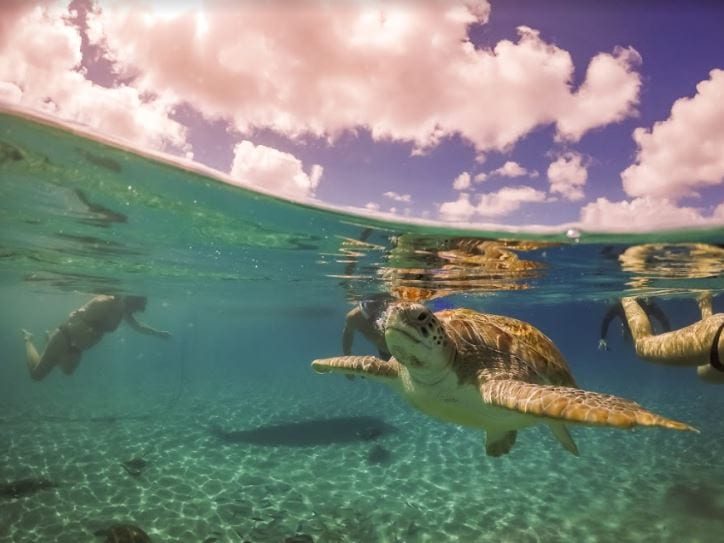 Playa Lagun
A narrow cove enclosed by rocky cliffs, Playa Lagun is known as the best place in Curacao to spot sea turtles. The rocky edges of the bay offers the best fish sightings. Green moray eels can be seen protruding from some of the small crevices, snappers, parrotfish and butterflyfish are common along the cliffs, overgrown with hard corals and sea fans.
Playa Kenepa
Playa Kenepa has been referred to as an "underwater dream". This beach has an amazing variety of healthy corals, unique sponges, and fish, including some fantastic Elkhorn Corals. This stretch of reef is some of the healthiest and most visually interesting found on this end of the island.
Boca Santa Cruz
One of the less crowded and stunning spots in Curacao, Boca Santa Cruz is a secluded beach paradise perfect for those who value their uninterrupted quiet time with nature. This spot also attracts a lot of birds and makes it an area perfect not just for underwater life but also looking up to the skies for some bird watching.
Playa Shon Mosa
Fine sand and hardly any people, Playa Shon Mosa is a small beach east on a private plantation. A short swim along a gradual slope opens your eyes to a vast seascape with an abundance of the Yellow Boring Sponge and a floor of corals.
Cas Abao Beach
A short walk to the turquoise waters down a walk over some small rocks showcases a variety of fish including large parrot fish and eels. Recommended by locals for snorkeling right off the beach, this spot is a must-visit during your holiday in Curacao.
Playa Porto Mari
Seemingly taken right out of a postcard, Playa Porto Mari has been considered as one of the most beautiful beaches of Curacao. Clear and crisp blue waters embrace the sandy shore and the snorkeling areas are filled with life. Mostly spotted are bluehead wrasse, parrotfish, blue tang and French angelfish.
Daaibooi Beach
Blinding white sand and perfectly clear blue waters surround this beach and make it an ideal spot for all types of snorkeling enthusiasts. The underwater world of Curacao comes to life beneath the surface of Daaibooi Beach with giant elkhorn coral, angel fish, parrot fish, brain coral, and trumpet fish.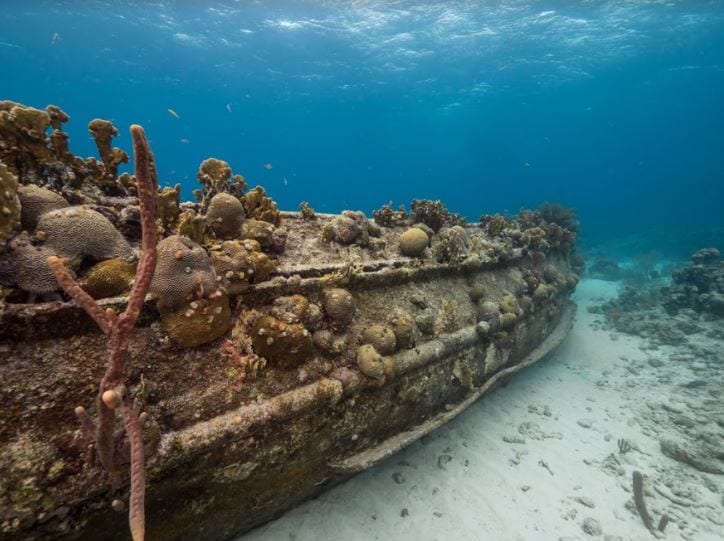 Tugboat
The most popular snorkeling destination in Curacao, Tugboat is famous for the tugboat wreck a few years ago. This nine meter long wreck is now home to a variety of colorful reef fish and is adorned by corals, sponges and sea fans. Perfectly nestled in a sheltered and shallow bay, this spectacle is definitely something that shouldn't be missed.
Snorkeling gear rentals and experienced guides are part of the offered services in Livingstone Jan Thiel Beach Resort. Jump into adventure and explore the underwater world this island has to offer. Take it from The Little Mermaid's Sebastian: "Since life is sweet here, we got the beat here, naturally!"